Products
CROSSCO® WAXEX™ (1ST STEP)
Code #: DE049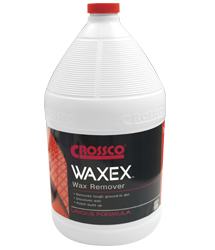 - Description
Is a concentrated wax remover for all types of floors without damaging, the elasticity or color. Works quickly.

Available in: 32 FL.OZ., 1 US GAL.
- Application
For better result, dilute 1 pint in 1 gallon of water.
After applying the product check in a small area if product can be remove with a slight scraping or cloth.  This technique will let you know if the product is ready to be remove with a mop.
No need to use a pressure washer.
Remove old wax and rinse the floor with water.
- Advantages
Safe
Fast
For all Type of Floors
- Specifications
Appearance: Liquid
Color: Violet Transparent
Specific gravity: 1.00
Wt/gal: 8.33 lb./gal
pH: 10.5-11.5
- Warnings
KEEP OUT OF REACH OF CHILDREN
For chemical emergencies only, call CHEMTREC
1-800-424-9300
The manufacturer's liability in connection with the sale of this product extends only to the replacement price.