Products
CROSSCO® GREASE OFF™
Code #: DE259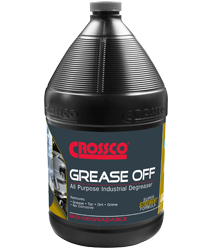 - Description
Crossco Grease Off™  is an industrial strength formula with the ability to clean and remove grease, oil, asphalt, dust and dirt quick and easy from any surface deposits. This product instantly penetrates and dissolves the toughest grease, grime and dirt.
Available in: ¼ US GAL, 1 US GAL, 5 US GAL
- Application
Apply on surface to be cleaned. For warm surfaces spray-on, let stand for 10-15 minutes. For cool surfaces, let stand for 15-20 minutes (allow longer dwell time depending on severity). For optimum results, rinse off with hot water under pressure.
- Advantages
Biodegradable
Non-Corrosive
Harmful on Paints
Fast Acting Formula
Industrial Strength
- Specifications
Appearance: Red Clear Liquid
Odor: Detergent
Specific Gravity: 1.00
pH: 11-12
- Warnings
KEEP OUT REACH OF CHILDREN
For chemical emergency call Chemtrec 1- 800-424-9300
The manufacturer's liability in connection with the sale of this product extends only to the replacement price.