Products
MURIATIC ACID 22% SOLUTION™
Code #: AM030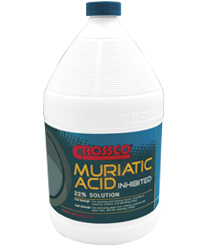 - Description
It is useful for cleaning and descaling roughened concrete and metal.

Available in: ¼ US GAL, 1 US GAL.
- Application
UNDILUTED: For cleaning and descaling roughened concrete and metal.
DILUTED WITH WATER: To remove stains on porcelain and glass tiles and for cleaning.
DILUTED WITH THREE PARTS of WATER: To clean concrete walls and remove salt deposits  from bricks.
ALWAYS TEST A SMALL AREA BEFORE GENERAL APPLICATION
- Advantages
22% Solution Guarantee
Powerful cleaner
Excellent to Remove Stains and Dirt
Clean and Give Porosity to Concrete Before Paint
Clean Metals
Remove White Salt Deposits from Bricks, Glass, Ceramic and Tools.
- Specifications
Appearance: Liquid
Color: Clear
Specific Gravity: 1.07
°Be: 10-12°
- Warnings
CORROSIVE MATERIAL  MAY CAUSE BURN. HARMFUL OR FATAL OF SWALLOWED. CONTACT A PHYSICIAN IMMEDIATELY
KEEP OUT REACH OF CHILDREN
For chemical emergency only, call Chemtrec 1- 800-424-9300
The manufacturer's liability in connection with the sale of this product extends only to the replacement price.