Products
CROSSCO® ULTRA SEAL™
Code #: RS089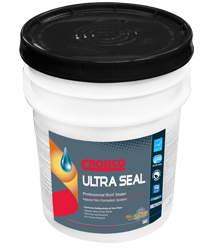 - Description
Crossco® Ultra Seal™ is a elastomeric roof coating is formulated using 100% acrylic polymer that provides outstanding adhesion and superior reflectivity. This high performance coating resist cracking, peeling, applies blue and dries to a white finish, providing excellent waterproofing capabilities.
Available in: 5 US GAL
- Application
Choose a warm, sunny day. Does not apply it after 3: 00 PM. or at low temperatures. Apply only at temperature above 50 ° F. Make sure to protect the roof for the rain at least 6 hours after applied. Apply with a roller or a unit of pumping without air. Apply product on the surface and spread evenly to the suggested rate. Make sure that the edges are completely seal. Some materials are not compatible with this product. Dry time depends on the thickness, humidity and temperature. Do not walk on the sealer before 24 hours after applied and apply in opposite directions. Do not dilute the product. Clean the equipments with soap and water.
- Advantages
2 in 1 Primer & Sealer
Reflect UV Rays
Lower Interior Temperature
Applies Blue – Dries White
Silicone Modified
Excellent Adhesion
- Specifications
Appearance: Liquid
Color: Blue – Dires
Weight/Gal: 12.21 lbs
Solids/Weight: 65% +/- 2%
Viscosity: 115 KU
pH: 9.5-10.5
- Warnings
KEEP OUT REACH OF CHILDREN
Contains 100% Acrylic resin and can cause irritation of the eyes, nose, throat and skin. In case of contact with eyes, rinse immediately with plenty of water and seek medical advice. If ingested accidentally visit a doctor immediately. Use only with adequate ventilation.
For chemical emergency only, call Chemtrec 1- 800-424-9300