Products
CROSSCO® SPACKLING COMPOUND™
Code #: SC044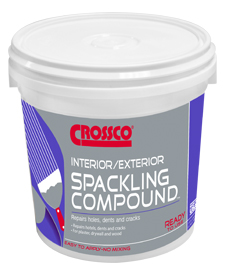 - Description
Crossco® Spackling Compound™ is a general purpose, water-based spackling compound for patching holes and nail heads easily in plaster, wallboard, wood, stucco, and concrete. Specially formulated for easy application and sanding, it dries fast and holds tight. Cleans up with water and paintable. Will not crack, peel or crumble, even after exposure to severe weather conditions.
Available in: ¼ US GAL, 1 US GAL, 5 US GAL
- Application
a. Apply with spackling knife & press firmly into crack or small void.
b. Two or more applications may be required for larger cracks & voids. Allow patch to dry for 1-2 hrs between applications, depending upon climatic conditions.
c. When patch is completely dry (1-2 hrs in normal humidity), patch may be sanded smooth.
d. Sanded patch should be dust-free & otherwise clean, prior to priming & painting.
Larger holes & cracks may require more than one application; allow patch to dry 1-2 hrs between applications
No Mixing Required. Product is ready to use.
- Advantages
High Grade Filler
White Finish
Fast Dry
Paintable
Water Clean Up
Excellent Sanding
- Specifications
Color: White
Odor: Characteristic
Viscosity: 400,000-500,000
Coverage: 175 sq. ft.² per gallon
Drying Time:  Open: 15 minutes     To set: 2 hours   To cure: 26 hours
- Warnings
KEEP OUT OF REACH OF CHILDREN
For chemical emergencies only, call CHEMTREC
1-800-424-9300
In case of contact with skin, rinse with clean water. If swallow accidentally visit a doctor immediately. In case of contact with eyes, rinse with plenty water for 15 minutes.