Products
CROSSCO® FRESKO SPRAY & WIPE™
Code #: DE068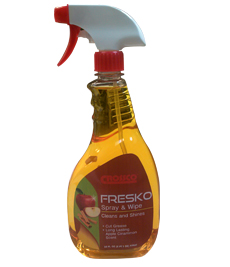 - Description
Crossco® Fresko Spray & Wipe™  is a multi surface all purpose cleaner powerful enough to dissolve grime and dirt leaving a fresh Apple Cinnamon Fragrance. Quickly removes anything from all washable surfaces and fabrics. Ideal for everyday use; just Spray and Wipe to remove and clean.
Available in: ¼ US GAL, 1 US GAL, 5 US GAL
- Application
GENERAL CLEANING: FRESKO SPRAY & WIPE requires no dilution. Ready to use formula. Rotate nozzle to On position, spray product to surface and wipe with paper towel or lint free cloth.
- Advantages
No Streak Formula
Perfect Shine
No Rinsing Needed
Nice Fragrance
Just Spray & Wipe
Deep Clean
- Specifications
Color: Amber
Odor: Apple Cinnamon
Weight/ Gallon: 8.90 lbs./gal.
pH: 6.5 -7.5
- Warnings
KEEP OUT OF REACH OF CHILDREN.
Avoid contact with eyes, skin and clothing. Keep out of reach of children. Keep container closed during storage. Harmful if swallowed. Eye Irritant. Refer to product Material Safety Data Sheet (MSDS) prior to product use.
For chemical emergency only, CALL CHEMTREC 1-800-424-9300.